Settings¶
Select device discoverability¶
If you boost the device discoverability, it will be easier to connect to it (e.g. to synchronize) at the expense of increased energy consumption.
Options
| | Option | Range | Battery life time |
| --- | --- | --- | --- |
| energy_savings_leaf | Limited | a few meters | optimal |
| balance | Balanced | up to 10 m (or 1 wall) | 2x shorter |
| wifi_tethering | High | up to 50 m (or 2 walls) | 4x shorter |
After you set the discoverability for the first time, the device will remember it. Options may vary depending on software version and environmental conditions.
Configuration
0.23.0
1.1.0 (32) (iOS)
Select a device from the device list by clicking its tab.
Expand the menu in the upper right corner.
Click option Select visibility (or similar).
Select preferred visibility.
Confirm and await the discoverability is set on the device and saved on cloud.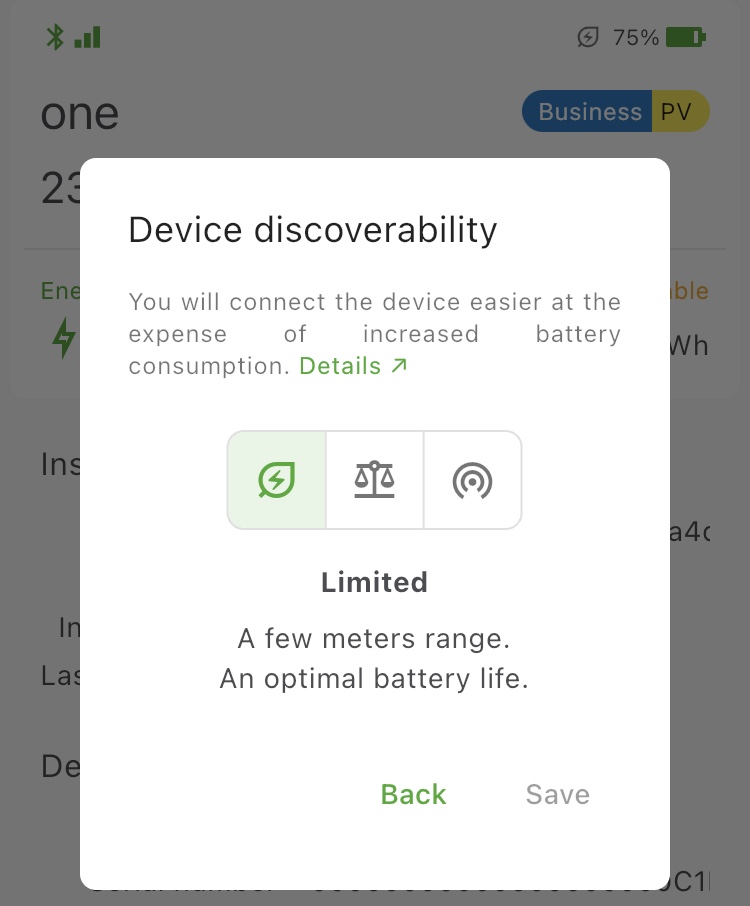 0.22.0
0.4.25 (Android)
Go to device Settings in the mobile app and expand additional settings at the very bottom. Then, select your preferred discoverability level. After clicking on the selected option, the phone will connect to the device and provide it with new operating parameters.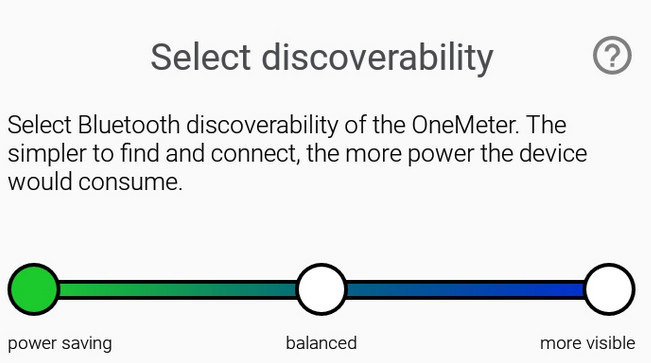 Delete account¶
Account deletion means that all your data will be removed from our cloud (including login details regardless of platform and historical devices) and you will no longer be able to access OneMeter services on that account.
Deleting your OneMeter account is irreversible and will start immediately. Data stored in the OneMeter cloud will be erased. Signing in again will not lead to deleted data restoration. Make sure that only trusted people have access to your account to avoid problems with mistakenly deleted accounts.
Risk of losing access to devices in the future
If you have OneMeter devices on your account that have not been uninstalled yet and you delete the account without uninstalling them, you will not be able to use them in the future at all.
Usage
1.1.0 (38) (iOS)
If you want to delete your OneMeter account, follow the mobile app prompts after selecting the option to delete your account.

This option is not available yet. If you want to delete your account, please contact us.
---
Poslední aktualizace: 2023-12-01