OneMeter web app¶
The OneMeter Cloud (web app) is a place to visualize and analyze data read from your energy meter. The system allows for an overview of all devices installed on the account. On the basis of the readings, a graph of the electricity consumed/returned at a given time is generated. For each device the user can set a tariff group, according to which he settles with the DSO (Distribution System Operator) together with additional charges, which are taken into account during the invoice settlement. The system generates an energy consumption report and simulates energy costs depending on the selected tariff group.
Main screen¶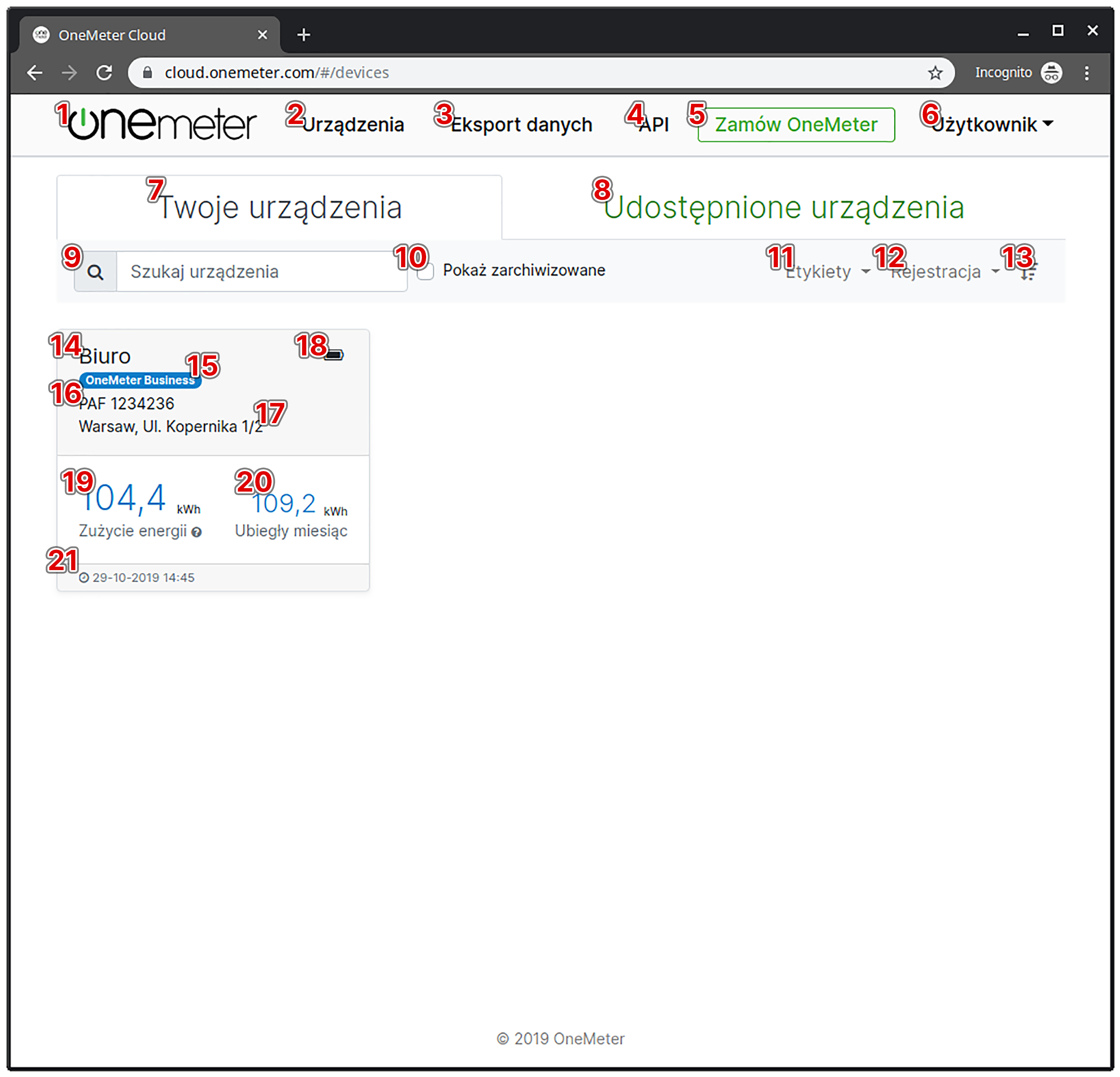 Link to the main page of cloud.onemeter.com
List of installed devices
Export data from multiple devices
API documentation (requires permission, contact Customer Support for access)
OneMeter order page
Account information

FAQ
Mobile app
Download link
Contact Customer Support
Support form
Blog
OneMeter blog
Legal & security
OneMeter Terms of Use
Language
OneMeter Cloud language selector. Currently available: English, Polish & German
Logout
Log out of the OneMeter Cloud platform in your browser

List of installed devices
List of shared devices
Search OneMeter devices
Show archived devices (i.e. devices which have been unpaired from their energy meter)
Filter devices by label
Sort listed devices
Order of listed devices
Device name
Device type
Energy meter ID
Device location

available if submitted during installation or configured in device settings

Device status

info regarding battery state and, optionally, synchronization required or firmware update available Information: The information about the counter designation (here: PAF 1234236) will not be available for viewing in the new version of OneMeter Cloud

Energy consumed from the network this month
Energy consumed from the network last month
Date of the last reading, which was relayed to the OneMeter Cloud server
Device page¶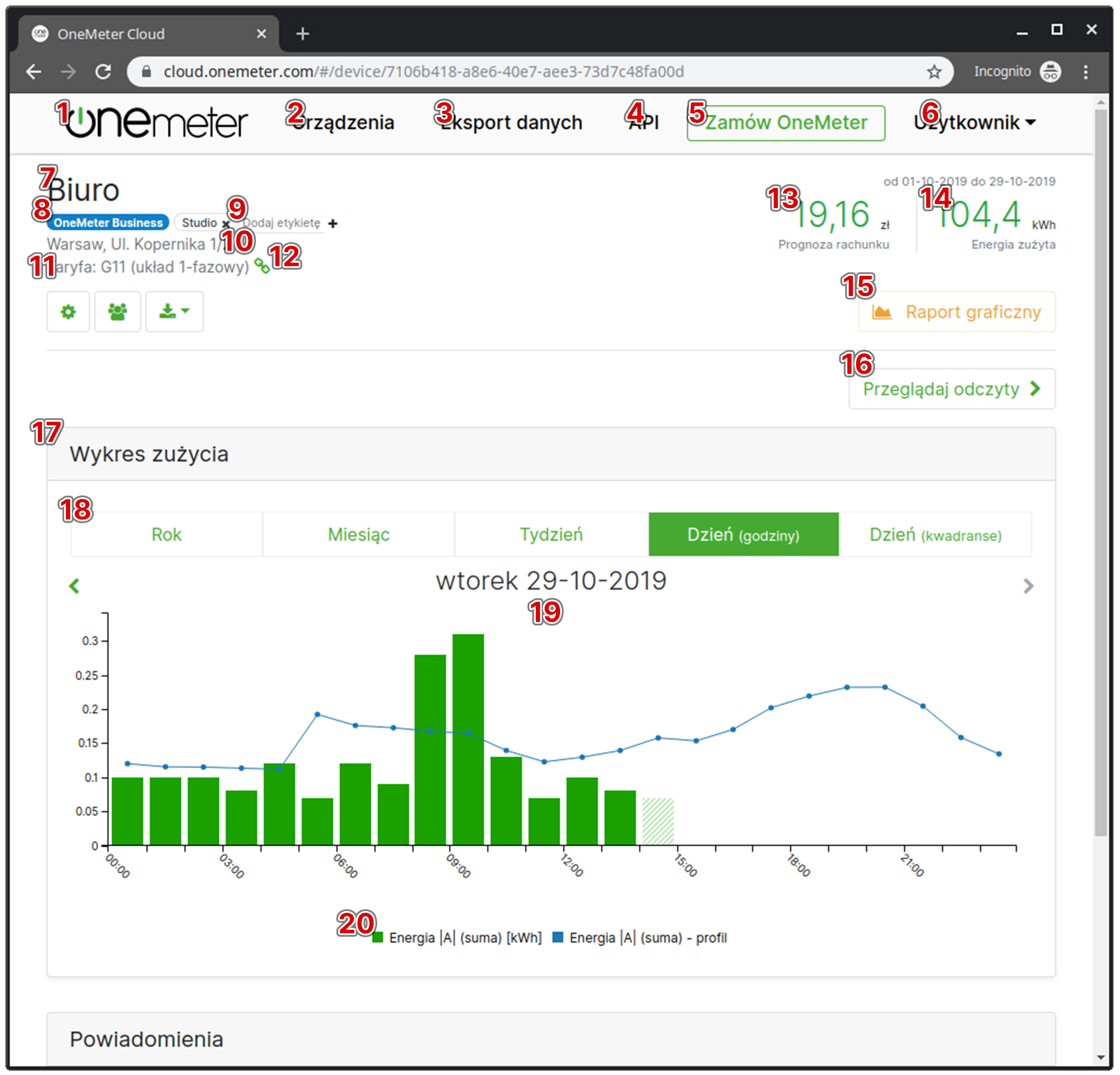 Link to the main page of cloud.onemeter.com
List of installed devices
Export data from multiple devices
API documentation (requires permission, contact Customer Support for access)
OneMeter order page
Account information

FAQ
Mobile app
Download link
Contact Customer Support
Support form
Blog
OneMeter blog
Legal & security
OneMeter Terms of Use
Language
OneMeter Cloud language selector. Currently available: English, Polish & German
Logout
Log out of the OneMeter Cloud platform in your browser

Device name
Device type
Device tags
Device location

available if submitted during installation or configured in device settings

Device tariff group
More tariff info
Invoice forecast
Current energy usage
Switch to readout overview
Main chart
Date range selector
Date range of current chart
Legend
Charts¶
In the main chart, you can view:
Energy consumed from the grid¶
In the form of green bars.
When you hover a given bar, you can see the range of time that the bar covers and the amount of energy consumed in kWh.
Energy returned to the grid¶
In the form of yellow bars.
When you hover a given bar, you can see the range of time the bar covers and the amount of energy returned in kWh. Option only available for users with OneMeter PV.
Energy consumption profile¶
In the form of a broken blue spline.
A profile is a set of data about the average electricity consumption on particular days of the week and particular hours of the day.
The preview of the week shows the weekly profile. In this profile, for a given day of the week, the average power consumption on that day of the week is displayed (calculated on the basis of data collected in OneMeter Cloud from the moment of OneMeter installation). The value displayed on Monday in week x will be the same every Monday in the weekly preview and so on.
The day preview shows the daily profile. Daily profile is calculated based on data from individual working days (from Monday to Friday) and separately for weekend days. So for Monday it will be the same as for other working days and for Saturday it will be the same as for Sunday.
Uwaga: Holidays, except for the above mentioned weekends, are not taken into account for the calculation of the weekend profile. They are treated as working days.
Reactive energy¶
Available for OneMeter Business users.
Projection of the energy production¶
A simulation of how energy production from a photovoltaic installation could look like at the location where the device is installed with the parameters previously entered in the settings. The calculations are carried out by a specially designed algorithm and take into account data from PVGIS (PhotoVoltaic Geographical Information System) platform published by the European Commission. The data can help e.g. in making a decision about installing a photovoltaic installation in a given location. Due to the non-deterministic nature of many input data taken into account by the above algorithm (such as sunshine at a given location on a given day of the year), the data is not 100% accurate.
---
Last update: 2022-05-14